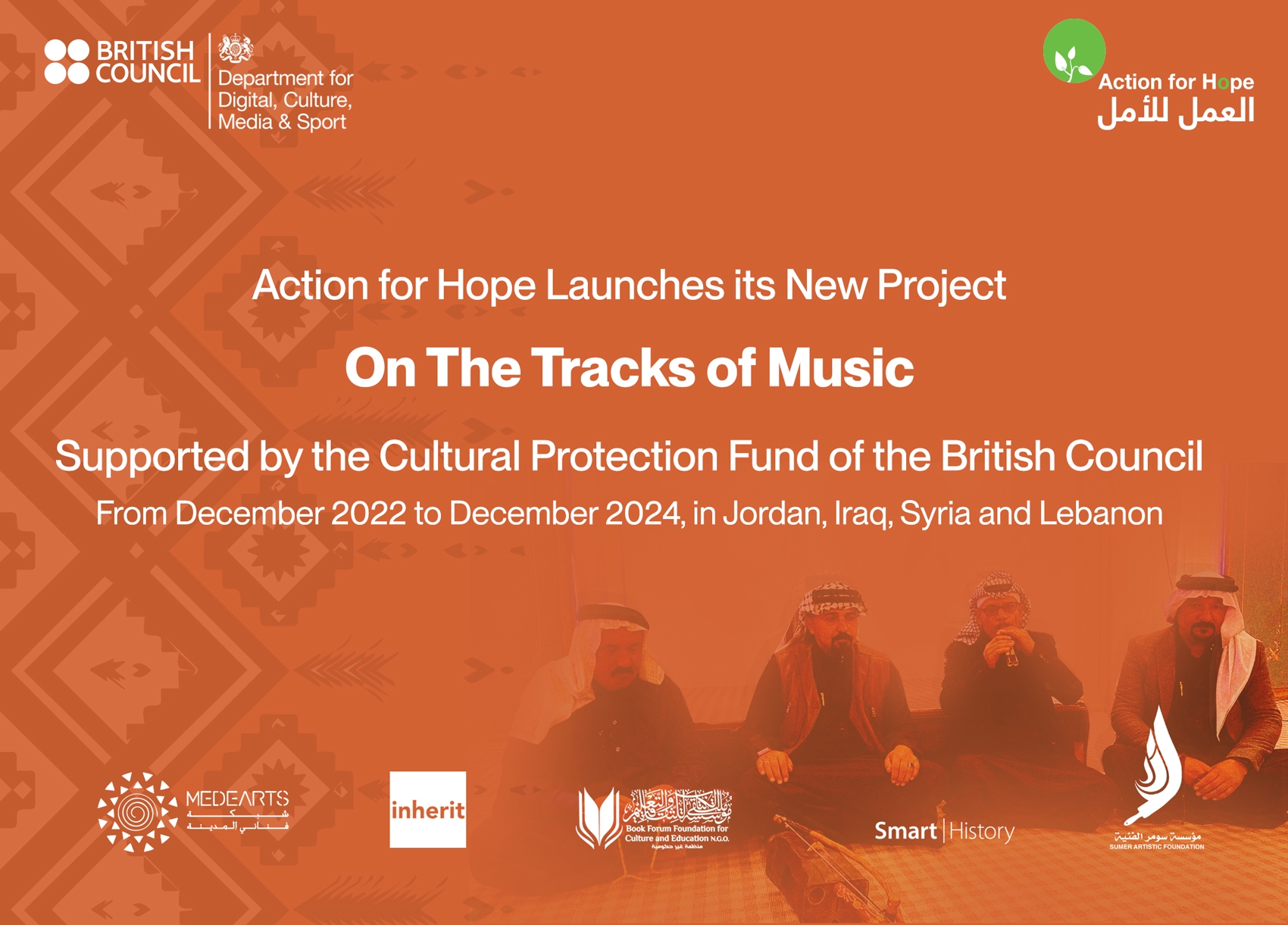 Introduction:
The destructive impact of armed violence in the Levant and Mesopotamia regions is obvious on all aspects of life, including cultural expressions and practices, but it is particularly evident in the field of folk music. The armed conflict in Syria and the years of violent conflicts in Iraq have led to the forced displacement of many rural, Bedouin and Roma communities internally inside the two countries, and into Lebanon and Jordan where they live in dispersed refugee settlements and poor urban neighborhoods. This has caused the dismantling of family and tribe linkages, and led to the interruption of folk music traditions that were passed from one generation to another for centuries.
On the other hand, the climate changes, including air pollution and shortage of water resources, are directly impacting the livelihoods of Bedouin and Roma communities who depend on grazing livestock, and on rural communities that depend on agriculture, and are causing more displacement and contributing to civil strife. The situation resulting from these dangers represents a direct threat to the continuity of the intangible cultural traditions of these communities, such as their folk music, the focus of this project.
The Project:
Action for Hope will focus on the rarely documented folk music of the Levant and Mesopotamia, particularly on eight marginalized communities such as small villages, Bedouin and Roma communities, and refugee settlements in Syria, Lebanon, Jordan, and Iraq, through research, documentation, as well as developing the capacity of 135 musicians and instruments makers from these communities in learning and performing folk music and songs, in making the instruments associated with this music to protect them from extinction, and to develop their capacities in self-production and marketing to better promote themselves and their music. The project will also include concerts, music video productions and an exhibition that will reach wide audiences in the four countries and online. This project will be implemented during 25 months in four countries: Iraq, Jordan, Syria and Lebanon, in partnership with three local partners: The City Artists Network (MedaArts) in Jordan, the Book Forum Foundation for Culture and Education in Mosul, Iraq, and Sumer Foundation for Artistic Talents Development in Basra, Iraq. In addition to the local partners, Action for Hope is also partnering with INHERIT and Smart History in the United Kingdom.
https://www.act4hope.org/wp-content/uploads/2017/09/Logo.png
0
0
hopeforact
https://www.act4hope.org/wp-content/uploads/2017/09/Logo.png
hopeforact
2023-02-16 08:55:21
2023-02-16 08:55:21
On The Tracks of Music