My name is Hanady Hajj Abdallah, I am originally from Aleppo but I lived all my life in Jdeidet Artouz in Damascus.
I moved to Beirut in 2013 after our house was destroyed by several bombings that occurred on many occasions and after having to move many times to our aunt's house and register in two different schools. When our house was destroyed, we had no choice but to move to Beirut. My brother was already living here. When we first moved we lived for a whole year in a school building and then we all lived in one room that had no tiles. Now we live in two rooms: my brother, his wife and her family, and me, my twin brother and my parents. My father is a tailor and my mother used to help him is Syria. Now she serves food and cleans dishes in an orphanage.
When they first asked me to choose an instrument at the Action for Hope Music School I chose Oud (lute) because my uncle used to play Oud and I wanted to be like him. At the school, we take many classes: Music theory, history of music, life skills, general culture, etc.
My life before starting to learn oud had no flavor at all.   
Before I started playing music, I felt that I had no value among people. Now, When I hold my lute and walk in the streets I feel a certain pride. I count for something, I have a certain value.  When I play to my father, he is happy. My mom at the beginning thought that it's only a recreational activity.  Now, she thinks that my brother, who is also a music student and I, are delivering something that has a certain worth to the public. The first time I saw my brother singing in front of hundreds of peoples in the Sunflower Theatre, I was so happy and I couldn't hold my tears. When people come to pay us a visit, they always ask me to play the lute.
On the negative side, it creates some turmoil with my parents: I am not allowed to practice whenever I want to because the room is too small.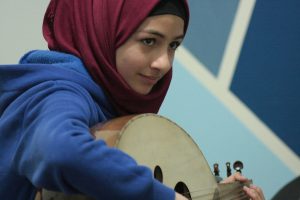 Author: Hanady Hajj Abdallah, 16 years old from Aleppo
Activity: Music (lute)
Story collected and compiled by: Mona Merhi
Date and place: Saturday may 6th , 2017| Ein El Remmeneh Cultural Center – Action for Hope