When:
@ – @
2017-12-09T17:00:00+00:00
2017-12-19T21:00:00+00:00
Where:
Mansion
Abdel Kader Street
Zokak el Blat
Beirut

Contact:
Action For Hope العمل للأمل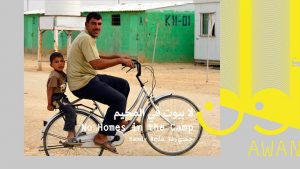 Please scroll down for English
لا بيوت في المخيم
تجهيز فوتوغرافي للفنان حمدي رضا
9 إلى 19 كانون الأول / ديسمبر 2017
الافتتاح في السادسة مساء السبت 9 كانون الأول 2017
مانشن – زقاق البلاط – بيروت
بين الأحداث المتلاحقة يتطلع إلينا الموت والحياة بوجهيهما الصارخين، نولد ونموت وبين الحدثين سلسلة متناهية من السرور والحزن، من الأمل واليأس، من العمل والمرح والعذاب، تذهب كلها وتنتهي بفنائنا، وتبقى الكلمات والصور لتحكي لمن يأتي لاحقاً كيف كنا نبدو، وكيف مرت الحياة بنا.
لا يختلف الأمر في المخيم، تجرّ الأيام بعضها حاملة معها أحداثاً عادية: تدبير قوت كل يوم، محاولة العثور على عمل، إصلاح الخيام وخزانات المياه الخاوية معظم الوقت، البحث عن مدرسة تقبل أطفالاً فقدوا أعواماً من عمر تعليمهم، ملء الساعات الطويلة بمتابعة أخبار الوطن القريب في التلفزيون، وأحداثاً أخرى غير عادية: ضحكة مجلجلة تخرج من خيمة خطبت إحدى بناتها للتو، شاب يحصل على دراجة، مجموعة من النساء تنطلق في غناء مفاجىء، طفلة تعلمت التصوير تصور أخاها الرضيع، رجل ينجح في إدخار واستدانة ما يكفي لفتح دكان لبيع الأحذية.
المخيم، مثل أي حي سكني أو قرية، يزدحم بتفاصيل الحياة اليومية. الفرق هو أنه بالضرورة مكان مؤقت، حتى لو دام. كل ما يفعله سكان المخيم وما يحدث لهم هو مرهون بنهاية غير محددة الوقت. تدق ساعة المخيم كقنبلة موقوتة بزمان مستمر. ينطبق على المخيم القول: إعمل لمخيمك كأنك تعيش فيه أبداً، وإعمل لمخيمك كأنك تعود إلى وطنك غداً.
هذا التناقض بين المستمر والمؤقت هو موضوع هذا التجهيز الفوتوغرافي الذي يضم حوالي 17 صورة أخذت كلها في مخيمات للاجئين السوريين في تركيا والأردن ولبنان. في تشرين الثاني/ نوفمبر 2012 زار حمدي رضا مخيم للاجئين السوريين في مدينة كلس في تركيا، وكذلك مخيمات صغيرة على الحدود السورية التركية، بدعوة من بسمة الحسيني ومع 15 فناناً وناشطاً ثقافيا عربياً آخرين. بعد ذلك شارك حمدي رضا في قوافل الإغاثة الثقافية لمؤسسة العمل للأمل في الأردن ولبنان أكثر من مرة ليدرب شباباً وأطفالاً من اللاجئين السوريين على التصوير، إلا أن هذا الهدف لم يصرفه عن اهتماماته الأساسية في تسجيل الواقع اليومي بعدسات عينيه وكاميراته.
حمدي رضا – مصر
حمدي رضا فنان بصري وقيّم فني، يعمل ويعيش في القاهرة، وهو كذلك مدير ومؤسس مساحة آرت اللوا للفنون (www.artellewa.com)، وهي مساحة للإقامات الفنية والمعارض والمشاريع الثقافية للفنانيين المحليين والعالميين، تقع في محافظة الجيزة في مصر. مساحة آرت اللوا ملتقى يعمل من أجل خلق وتفعيل الحوار بين الفنانين والمجتمع.
تتضمن أعمال حمدي رضا التصوير والتصوير الضوئي التجريبي والتجهيز الفني في الفراغ. وتتمتع مشروعاته المشتركة مع فنانيين من الدوائر الفنية المصرية والعالمية بشهرة كبيرة.
يسعى حمدي رضا – الحاصل على عدد من الجوائز و المنح المحلية والدولية – إلى تعزيز لغة الحوار الإبداعي على المستوى العام، وإلى مواصلة مشواره الفني، فضلاً عن مشاركته الفعالة في العديد من المبادرات المعنية بالقضايا الثقافية في مصر والوطن العربي.
No Homes in the Camp
Photography Installation by Hamdy Reda
9 – 19 December 2017
Opening on 9 December 2017 at 18h00
Mansion, Zoukak ElBlat, Beirut, Lebanon
In the breathless array of events around us, we can catch glimpses of life and death staring at us with blunt faces. Between birth and death there is a finite chain of joy and misery, of hope and despair, of work, fun and agony, that dissolves and disappears with the end of our lives. Only words and images remain to tell those who follow how we looked and what life has made of us.
It is no different in a refugee camp; the days drag on carrying the usual events: making a living, finding a job, fixing the tents and the empty water tanks, looking for a school that would accept students who missed a few years of schooling, and filling the long hours watching the news of the nearby homeland on television. But there are also unusual events: a loud laugh ringing out of a tent where a girl has just been engaged, a boy gets a bicycle, a group of women suddenly launch into singing, a girl who recently learned photography takes a picture of her baby brother, a man succeeds in saving enough to open a shoe shop.
A refugees camp, like any village or neighborhood, is full of daily life events, but the difference is that it is a temporary place, even if it lasts indefinitely. In the camp, the clock ticks like a bomb with an indefinite explosion time. This is why many refugee camp residents say: work as if you will stay in the camp for ever, and work as if you will return home tomorrow.
The contradiction between what is temporary and what is permanent is the topic of this photography installation that features around 17 photos taken in refugee camps in Turkey, Lebanon, and Jordan. In November 2012, Hamdy Reda visited a refugee camp in Kelles in Turkey, and a few smaller camps on the Syrian Turkish border, upon an invitation by Basma El Husseiny and together with 16 other Arab artists. After that, Reda took part as a volunteer in several cultural relief convoys organized by Action for Hope in Lebanon and Jordan, to train young refugees on photography. But alongside this, he documented the daily realities of refugees with his camera.
Hamdy Reda – Egypt
Hamdy Reda is a visual artist and a curator who works and lives in Cairo. He is also the founder and the director of "Artellewa – www.artellewa.com", an art space in Giza, Egypt dedicated to local and international artists' residencies, exhibitions and art projects, as well as arts training programs for the community. Artellewa is also a space for initiating and supporting dialogue between artists and society.
Hamdy Reda's work includes photography, experimental photography and Installation Art. He is well-known for his collaborative projects with other local and international artists.
Reda, who won several awards and grants, aims at fostering creativity in the public sphere. He participated in many forums and initiatives that tackle the challenges that face artists in Egypt and the Arab World.
https://www.act4hope.org/wp-content/uploads/2018/02/5264_image_23674887_1917807874903857_5533185950695445820_o.jpg
405
720
hopeforact
https://www.act4hope.org/wp-content/uploads/2017/09/Logo.png
hopeforact
2018-02-26 15:33:25
2018-02-26 15:33:25
No Homes in the Camp لا بيوت في المخيم