Communities Cultural Interventions
According to UNHCR, Lebanon and Jordan host around 1,660,000 refugees. However, it is commonly believed that the real numbers are over two million.  Over 1 million of these refugees are in Lebanon distributed in small informal refugee camps across the Bekaa valley, Akkar in North Lebanon and Shatila in Beirut, with a higher concentration in the Bekaa valley. In Jordan which hosts around 800,000 refugees, one third of the Syrian refugees live in large camps managed by the Jordanian authorities, and the other two thirds are scattered in poor urban dwellings across the country, but mostly in Amman.  Action for Hope targets these refugee communities that are often socially closed and lack access to any type of cultural education or activities.  This particular need; the need for moral and physical spaces for creative expression, criticism and reflection is usually overlooked by humanitarian and development organizations despite the demoralizing impact that such deprivation has on these communities.
Cultural Relief Convoy (CRCs)
CRCs are the first and most well-known activity of Action for Hope, and they mark the start of our work in a certain community.  By the end of 2017, we had conducted 8 CRCs, and have thus developed our work methodologies and tools for organizing the convoys to achieve impact on targeted communities and prepare for follow up activities.  The main activity in all convoys is arts training, but we also respond to the other needs of the community such as medical services and sometimes food.  Each convoy is preceded by a short introductory workshop for participating volunteers, and is followed by an assessment of activities and future plans.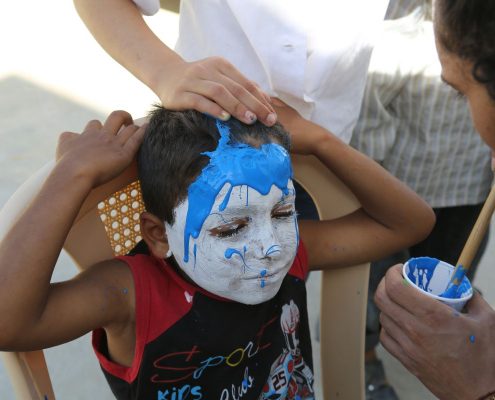 List of activities
In 2015 and 2016, three cultural relief convoys were conducted:
Stable Antar convoy, Cairo, Egypt (30 May - 12 June 2013)
Hayy ElTanak, Tripoli, Lebanon (18 - 31 August 2013)
Doweir Village Convoy, Assiut, Egypt (3 - 13 November 2013)
AlMarj Camp, West Bekaa, Lebanon (5 - 17 December 2013)
Baidar Camps convoy, West Bekaa, Lebanon (20 July – 7 August 2015)
Jordan convoy:
Zaatari camp (13 – 18 November 2015)

Amman and Zarqa CARE centers  (22 – 26 November 2015)
Al Hashmi Al Shemali neighborhood in Amman, Jordan (30 July – 11 August 2016)
AlMehamara Camps, Akkar, North Lebanon (3 - 17 July 2017)
Cultural Community Center (Include Cultural events)
It became clear in early 2016 that to sustain the services we provide to our targeted communities in Lebanon, we need to centralize most of these services in centers that we manage.  Conducting activities in short-term rented venues has limited our impact on the community and has occasionally hindered the implementation of activities.  In addition, there are no cultural centers in the areas  where many Syrian refugees live in Bekaa.  In late 2016 and early 2017 we opened two cultural centers:
Ghazzeh Cultural Center
This center is situated within 100 meters of a very large refugee camp. It offers a public library in arts and literature, a multipurpose hall with a regular cultural program of film screening and small-scale performances.  It also houses the video school that we started in March 2017 for a regular 9-months study of film-making.
Barr Elias Arts Training Center
This center houses the music school and the theater training program. It's a one-story little villa situated very close to a number of small refugee camps.    A semi-covered mobile theater will be mounted in the empty plot in front of the center, but it might take up to spring 2018 for the theater to be fully operative.